Course details
【Mr. secretary must-see!】 A rental banquet at the reef! 120 minutes with an all-you-can-drink course 3500 yen / 4000 yen / 4500 yen course ※ Negotiable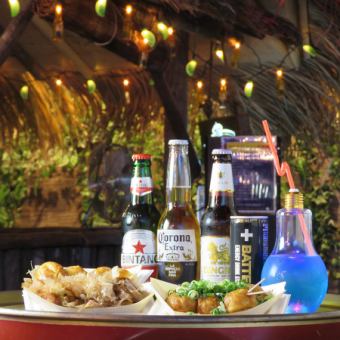 By using a coupon3500 yen
You can decide the basis of consultation with the owner, content and budget.
All-you-can-drink available

120 minutes drunk drink
Available days for reservation

Monday - Sunday - Public holidays - Holidays
Under the owner's preference that the banquet wishes to respond as much as requested by the secretary's request, the charter course does not set the price.We will correspond as long as you can talk about your request, so please contact us.
Course menu
One example of a party
· If you eat a full stomach at a primary meeting and you only need a drink after a second party
⇒ Reduce cooking as much as possible, increase the type of alcohol and lower the budget possible
· When you want to use at the primary meeting
⇒ Because it is main to eat for the time being, can not you increase the amount of cooking with ○ ○ yen?
· When the number of people does not reach the number of private lodgers
⇒ I only have 18 people gathered, can not you charter?
etc
We will respond to requests as much as possible!
All-you-can-drink menu
· BEER
· Beer-filled draft beer Budweiser
· SOUR
· Lemon / lime / man plum / grapefruit
· WHISKEY
· Suntory angle / JIM BEAM (bourbon) ※ Please choose from each, rock · water · hot water · soda discount.
· Shochu
· Nikaido / Kuro Kirishima ※ Please choose from rock · water · hot water · soda dishes.
·Plum wine
· Rich plum wine ※ Please choose from rock · water · hot water · soda club.
· COCKTAIL
· 【GIN】 GIN TONIC / JIN RICKY / JIN BACK / JIN LIM 【VODKA】 VODKA TONIC / VODCA RICKY / Moscow Commander / Screwdriver / Bulldog / Black Lucien 【RUM】 Rum tonic / Lamb high / Rum coke / Lamb orange 【TEQUILA】 TECONIC / Mexicana / Tequila back
· COCKTAIL
· 【LIQUEUR】 Cassis / Peach / Kalua / Cointreau / Passoa / Dita / Malibu / Campari / Mango Yang / Pisan (Green Banana) / Green Tea / Apricot / Tinzano (Rosso Dry Orancho)
· SOFT DRINK
· Oolong tea / Coca-Cola / Ginger ale / Orange juice / Grapefruit juice / Real gold / Non-alcohol cocktail
Coupons that can be used with this course
2018/12/04 update